Lori's sister, Barbara Jones has channeled a wonderful book that has had rave reviews from many spiritual people. It's the type of book you will need to keep a spare copy for other 'like-minds'.

IN TOTAL AND COMPLETE TRUST,


Is there something missing in your life? With this enlightening book, you will become more attuned to the God within you. By performing the exercises and visualizations, you will learn to change your reality. There is much chaos in the world and more to come. Now is the time to attune to the spiritual world and you will know peace, love and joy even amongst the chaos. Be that which you incarnated to the earth to be. Heal yourself to help Mother Earth to heal. It is with freedom that you shall surpass any self-imposed limitations.

Everything is just as it needs to be. It is through our lessons, and with the assistance of our unseen friends who surround us, that we can achieve our life purpose. God does indeed work in miraculous ways, but when the time is right. As you begin to change, your life will unfold in ways you never imagined. Believe all that happens is for a purpose, and love is the answer.
The softcover 145 page book

is autographed by Barbara

If you'd like to purchase the book, use paypal $11.95 (US$) plus $3.85 postage

(continental US shipping) 

     buy  IN TOTAL AND COMPLETE TRUST $11.95 plus shipping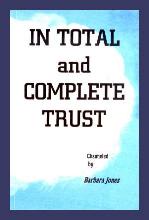 Spirit Collage.com

         Designing Visions in Mixed Media